Heart shaped engagement rings can be considered as symbols of enduring love and romantic feelings between couples. A hundred of years ago, the experiments on the creation of the heart-cut engagement ring started, however because it can be really tricky to create, the perfect cuts did not come out until the use of laser cutting and computers became a tool in diamond shaping.
This engagement ring cut looks more or less like a pear-cut diamond with a cleft at the top. Yes, it really doesn't go along with the normal engagement ring cuts are usually round or princess cut but it doesn't mean that the heart shaped engagement ring is not an ideal cut. The heart-shaped engagement ring is popular because it has a romantic and unique look. Nowadays, it is becoming one of the in-demand shapes and can be a bit prices if it is a bespoke type of engagement ring because it can be challenging to cut and create, as it takes an experienced cutter to make a perfectly shaped heart cut diamond as the smallest errors can literally alter the shape of the heart-shaped cut.
The heart-shaped engagement ring is somewhat an unorthodox cut. Usually, this type of ring is given on less formal occasions like birthdays, anniversaries, or Valentine's Day, however if you are thinking of giving this type of ring to your partner, then it will definitely do. The heart shaped engagement ring can give a unique impression and you get to do away with the norms of the bigger crown.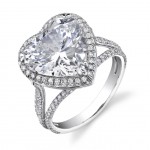 The heart-shaped cut engagement ring can be considered one of the modern shapes, but did you know that it has been mentioned in the correspondence of the Duke of Millan, Galeazzo Maria Sforza and Nicodemo in 1463? Queen Elizabeth also received a heart-shaped diamond from Mary Queen of Scots in 1562. During those times, the heart-shaped diamonds were given not for engagement purposes but as gifts of friendship and loyalty between royalties.
Nowadays there are men who want to think of giving their fiancées an engagement ring that doesn't look like other regular engagement rings. This is a great way of showing that there is much thought put into selecting the right ring. It fits the women with bubble and romantic personalities, plus, if it's a diamond ring, then the ladies will surely love it!

When choosing a heart-shaped engagement ring, you should always consider the quality of the curved cut and the finish because these can greatly affect the sparkle of the diamond. When shopping for diamond engagement rings, you can start with the 4Cs and check the band color. Usually, the heart shaped engagement ring is set on white gold bands to emphasize its sparkle.
Getting a heart-shaped engagement ring has its pros and cons. If you are looking for a timeless and unique engagement ring cut, then you can go for this engagement ring cut. The heart-shaped engagement rings come in different sizes from small to large sizes, so you can definitely find the shape with the price range that will suit your budget. This type of engagement ring increases in value with time as the cutting of the diamond to this particular shape can be very challenging. Also, this cut can look great with other colors too. One of the popular gemstone colors is the pink heart diamond ring which can be a great choice if you really want to go for something out of the ordinary.
There are downsides to this engagement ring shape which you might want to consider. For this shape, you have to be aware of the settings. If the diamond and the other gemstones are not set properly, it can easily catch on clothing and even hair. To get the best settings, you can go for the heart-shaped diamonds set with 3-prongs, 5-prongs or a bezel. However, the bezel can block out light so you may want to think of going for the prong settings instead. Plus, there is a big chance that the heart diamond cut can magnify flaws or color tings so the usual practice is to go for high-grade diamonds in order to get the best value for your money. It will be recommended to get colors between Flawless to VS2 and clarities between D to G.
To find the best heart-shaped engagement rings, make sure that you are looking in reputable jewelry stores! You can go for any of these shops:
We hope that we have given you the information you need in order for you to understand what it takes to buying a heart-shaped engagement ring!