When a man decides to propose to his lady, then it only means one thing: he is willing to spend forever with that lady, and that he wants nothing more but to give the lady happiness. This is why a lot of men do not want to settle for anything less than the perfect engagement ring for their fiancées. There is just one thing that's stopping them from giving that perfect engagement ring, and that is the budget constraints. Of course, the easiest way to buy an engagement ring is to buy it in cash, so you only have to worry about spending for wedding preparations after you propose. But this is not something that everyone can afford, especially the average men. There are options that you can go for if you really want to buy the perfect engagement ring for your fiancée. These days, it's already possible and this is by going for an engagement ring financing program!
Though there are pros and cons to buying an engagement ring on an installment basis, this is the only way that you can afford the most beautiful engagement ring that you want to buy for your fiancée. Its only a matter of finding the right financing program that will not leave you broke as you will not just think about the down payment. You have to think about the installment payments too.
There are many ways to get financing for the engagement rings that you want to buy and here are you options:
Buying an engagement ring using a credit card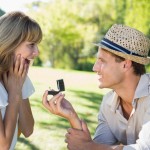 Most individuals go buy the engagement rings using their credit cards. It is the simplest and fastest way that you can buy an engagement ring without taking out a lot of cash. Plus, you get to determine the payment duration, however, you do have to pay the minimum amount. And you also have to take note of the compounding interest otherwise; you might end up paying for more a lot more. Some of the stores that accept credit cards in UK are: Goldsmiths, Beaverbrooks, SLC Designs, Ernest Jones and more! You can look for online resources, as most jewelers accept credit cards.
Take A Personal Loan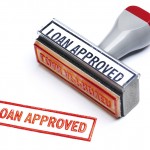 Getting a personal loan is another great option for engagement ring financing. You can get personal loans from banks, or other financial institutions that offer personal loans. However, this may take a little longer than buying the engagement ring using a credit card. This is because you have to submit documents and undergo a character and credit investigation, and you may even be disapproved if you have a low credit score. They will also set the instalments and the payment durations. However, it can offer a bigger amount compared to the credit card. To get the best deals on personal loans, you can check with Santander UK, Barclayloan, Lloyds Bank, Tescobank and HSBC.
Go for a Layaway Plan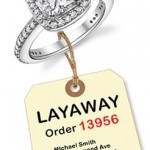 Another way of financing your engagement rings is through a layaway plan! You can think of a layaway plan as an in-house instalment program offered by jewelers. Although when you go for this option, you have to undergo an application process, and you need to have an approval for you to be able to purchase the engagement ring that you want. Most of the individuals who get approved for layaway options are those who have purchased rings with the certain jeweler.  Most of the time, jewelers will ask for a 10% down payment will be made in instalments on either a 6, 9 or 12-month scheme. You can check with Serendipity Diamonds, Antique Jewelry Mall and Chance Diamonds!
Proposing to your lady is something that you definitely have to plan on. So, think about your engagement ring finances very well and make sure that you earn enough money so as not to end up being broke paying for instalments!