One of the most exciting and most special moments in a couple's life is getting engaged. This is where you spend a lot of time in thinking, choosing and deciding which engagement and wedding ring to buy. Most of the time, wedding rings will look definitely great on anyone, but it is just as important to select the right kind of engagement ring that fits the personality of your future wife.
You will notice a lot of celebrities who like to show off their engagement rings especially after they get engaged. Engagement rings are usually made up of diamonds, and the popularity of diamond engagement rings have risen because the women like wearing traditional and yet modern engagement rings particularly the cushion cut rings.

If you are looking to buy a cushion cut engagement ring, then you should consider the color. There are different colors on the GIA Diamond color scale that you can choose from, this may be Colorless (D, E, and F), Near Colorless (G, H, I, J) which is the more common color category, Faint Color (K, L, M) Very Light Color (N, R) and Light Color (S, Z). If you are going for a Cushion Cut Diamond Engagement Ring, it will be best to go for the one that H Color and up. This is because the cushion cut is the poorest among the diamond shapes in terms of retaining the color. You may also go for colors I, J, and K especially if you are going to have it set in yellow gold where the colors will be more emphasized.
The next thing you want to consider it the clarity of the diamond. For the cushion cut diamonds, since it has a big open table, you can go for the nice clean SI1 clarity. This gives the best value. A lot of individuals for the SI2, however, since the table of the cushion cut is wider than other shapes, there's a big chance that you can find a suitable SI2. When looking for rings online, make sure that you are looking at vendors with high quality photos in order for you to determine if they are selling high clarity engagement rings.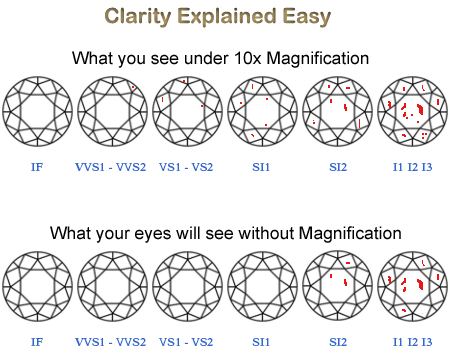 You can also check for cut parameters for the Cushion cut diamonds too!
In order for you to choose the best types of cushion cut engagement rings, you can refer to the following stores:
Harry Winston
Harry Winston has been selling the beautiful engagement rings since 1932. They feature the most beautiful cushion cut engagement rings created with much attention to every detail. The founder, Mr. Harry Winston, started with advertising his engagement rings with the glamorous stars of Hollywood and on auctions to attract people into charitable programs. They don't just have engagement rings, but they also have other jewelries like chokers, necklaces, earrings, and diamond bracelets. Harry Winston spells sophistication of the modern woman with a touch of romance in every piece of engagement ring they create. To know more about Harry Winston stores, please visit their website today at http://www.harrywinston.com/.
Blue Nile
Blue Nile has been one of the most celebrated jewelers and has been celebrating love with couples for 16 years. With the Blue Nile, you have the option to build your own cushion cut engagement ring! Blue Nile offers wide selections in terms of style and customizable designs! If you are looking for a personalized engagement ring, then the Blue Nile is the place to go to! They also have readily made designs crafted by the best jewelry designers in the world! For more information, you can visit their website at http://www.bluenile.com/.
The Knot
One of the coolest shops where you can go and look for cushion cut engagement rings is The Knot! You will find beautiful engagement rings with beautiful crafted designs in this store! You can even find the other things you need for your wedding on this store! You can find planning tips, dresses, venues and reception, and invitations to make your engagement complete and hassle free! Shopping for engagement rings has never been fun! With The Knot, you're not just preparing for your engagement, but you are already given a store where you can look for wedding ideas! Visit their website today at https://www.theknot.com/!
Tiffany & Co.
Tiffany & Co. has been serving couples with the best engagement rings since 1837! It has been known to be the most popular jeweler in the market. Your lady will surely love a cushion cut ring that you will get from Tiffany & Co! They also have other pieces of jewelry that you can choose from! To see their cushion cut designs, please visit their website at http://www.tiffany.com/ today.
Brilliant Earth
Brilliant Earth is the store to go to if you are looking for average-priced cushion cut engagement rings! You can find cushion cut rings set on white or yellow gold, and what's even better is all of them have beautiful designs! You can also create your own rings. You can select cushion cut diamonds and then just choose the carat, cut, color and clarity! Cushion cut engagement rings from Brilliant Earth will be something that your Lady will cherish as you have carefully customized the ring features for her! For more information, please visit their website at http://www.brilliantearth.com/.
Perry's Fine Antique & Estate Jewelry
If you are looking for designs that spell tradition and romance, Perry's Fine, Antique & Estate Jewelry is also a great place to shop it! Choose from their Mid Century, Contemporary and Art Deco designs. They also feature engagement rings from different top designers so you don't have to go from one website to another just to search for that perfect engagement ring!
Going for a cushion cut engagement ring is a perfect choice! Go and shop for the best cushion cut engagement ring, and make your proposal memorable!