Proposals are one of the most special chapters of the life of a couple. This is the where the first promises of eternal commitment is made. This calls for much preparation for the men, because to propose to a lady will mean that he intends to make her a happy woman in all her days, and one of the first ways to make her happy and to ensure a lifetime commitment is by giving an engagement ring. Though most individuals give engagement rings to their future wives, you can still make your engagement gift unique by going for something different from the regular solitaire diamond ring. You can also go for a Tanzanite engagement ring.
The tanzanite rings have rare characteristics that give them the unique beauty which is perfect if you want to give a ring that has a stand out beauty. The design of the tanzanite stone can give you a break from the tradition because of its deep blue shade. However, this type of engagement ring can present challenges when matching with bands and other types of gemstones. It may take a lot of effort to look for the stone that can match the color of the tanzanite stone.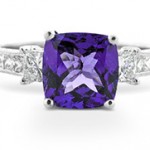 You also have to check the tanzanite stone carefully for blemishes; you can try rubbing the stone to make sure that there are permanent blemishes like moisture and bubbles. You also have to carefully check for cracks because the tanzanite stone can crack if it hits another stone. Just like the diamonds, Tanzanite stones also have properties such as the cut, carat, clarity and color. When going for a particular tanzanite stone, you have to take note of these things to make sure that you are getting the most value for your money.
If you are looking for a particular cut to suit the style you want for the engagement ring you're buying, here are the most popular shapes of the tanzanite stone:

If you are decided on getting a tanzanite engagement ring, here are a few tips that you can use:
Base the style of the style of the tanzanite engagement ring to the personality of your fiancée. Does she have an active lifestyle? Do you think she'll wear it every day or on special occasions only? Is she the traditional type, or a modern type of a lady? You can use her personality as basis of the style that you will go for. If you are looking for a traditional or modern designed tanzanite rings, you can go to Everything Wedding Rings, Diamonds International or at Tiffany & Co.
Another good tip when buying a beautiful tanzanite ring is to go for bespoke tanzanite engagement rings! This will give you ultimate control of the size of the tanzanite, the additional gemstones and the band that your want. For quality bespoke tanzanite rings, you can visit http://www.angara.com/.
You can save money by going for cluster engagement rings with the tanzanite stone as the center ring, or you can go for a cluster of closely-set tanzanite stones. Here is an example of a tanzanite cluster engagement ring that is set on sterling silver: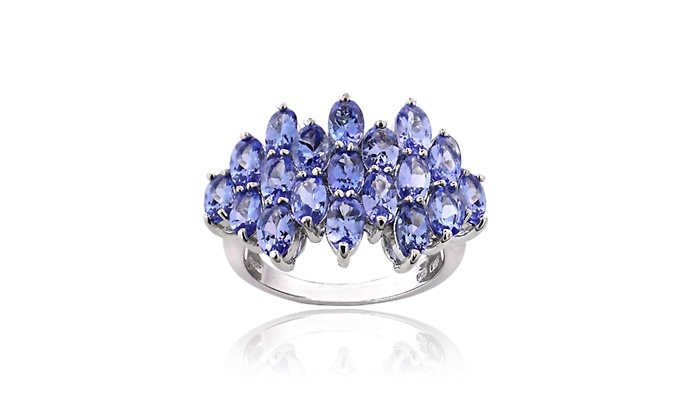 Since the stones are set on sterling silver, you can definitely have a lot of savings on the price!
You also have to check for the budget that you can allocate in buying your tanzanite engagement ring. Proposing is not the same as plunging into bankruptcy, so you can consult your jeweler for options where you can make the most savings.
There are still many configurations that you can do on you tanzanite engagement ring. You may configure the settings, tension, channel, pave, the band and the gold that you will use for the band. You can even go for platinum too! For a more customized look, you can go for different band styles.
Lastly, make sure that you are going for a reputable jeweler so you won't be given tanzanite stones with substandard quality!