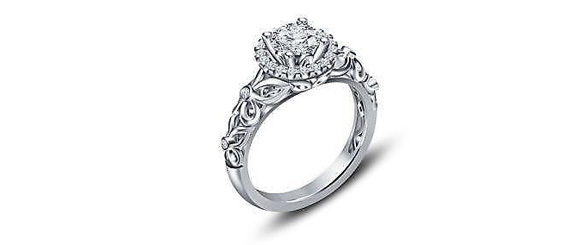 Silver engagement rings have risen in popularity during the 21st century. It has given a chance for the men to have a more budget friendly proposal to their future wives. While it is normal for a woman to receive engagement rings with yellow gold, white gold or platinum metal bands, a few men have dared to go for silver engagement rings because of its affordability and its intricacy.
History of Silver Rings
Although silver can be considered a humble metal used for rings, it has been a type of jewelry metal that has been used as far back as the 4000 B.C. During these times, the silver rings were worn for decoration as a sign of prosperity. The early pagan priestesses wore the silver rings, as Silver is associated with the moon which is considered a symbol of serenity.
Silver as an engagement ring
Silver may not be a popular choice for engagement rings, because the women are more attracted to the sophistication of gold rings, but it doesn't make your proposal any less special if you decide to give one! However there are certain things that you need to take note of if you are planning to give a silver engagement ring.
What makes silver different from gold and platinum bands is its durability. If you are planning to wear silver engagement rings for everyday use, then you might want to consider how it will look if you wear then every day. Silver is a soft metal that is prone to scratches, dings and can easily change its shape compared to gold. In some cases, silver gets worn off beautifully, and in some cases, it does not. So if you are planning to go a silver engagement ring, make sure that you are going for the design that will have a nice effect if it gets the normal wear and tear of the silver engagement ring. For the best options, go for vintage designs that will get a more dramatic look once the silver wears off.
Another thing that you may want to consider is the finish of the silver engagement rings. There is much versatility for the silver finishes. You can go for the bright whites to oxidized black finishes, but you have to remember that these finishes are not permanent and they may easily change shortly after you give the engagement ring to your future wife.
The best thing about going for silver engagement rings is it is great if you are working around a tight budget. Silver engagement rings can be very expensive, plus you might want to go for buying a bigger diamond or high quality gemstones, so going for the silver band can be very advantageous. This way, you can lower the price of the diamond ring, and you will be able to avoid breaking the bank.
Going for a customized engagement ring is also great if you're working with silver. This is because silver is very easy to form. You can definitely fuse in the designs that you want without experiencing a lot of hassles.
Taking Care of Your Silver Engagement Rings
Because silver is a very sensitive piece of jewelry, it is important to take precautionary measure in order to make sure that you can lengthen the beauty of the silver engagement ring. The silver ring can easily change its appearance if it is exposed to air pollution and humidity, so if you're going for the silver engagement rings then it is best to wear them during special occasions to make sure that you will be able to keep them beautiful for a longer period. When it is not being used, you can also go for using tarnish protection bags to when you are not using the silver engagement ring.