Contemporary engagement rings get their name as they go with the modern day designs of engagement rings. The contemporary engagement rings are a thing of beauty. In general, contemporary engagement rings are designed following geometric patterns, where lines are solid and there are no ornate designs. Couples who are more into modern personalities may go for the contemporary engagement rings as modern individuals mostly go for simplicity and elegance which is well represented by this ring.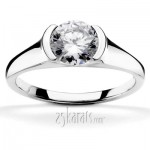 Contemporary ring designs are made using modern technology that is why they have a lot of flexibilities in terms of diamond designs. Because of the modern technology used to create these kinds of engagement rings, there have been advances as it makes use of new metal alloys which can be effectively matched with unique diamond cuts to create the ultimate sophisticated design.
Contemporary engagement rings most often use different metals with multi-toned designs which means they can make use of a combination of different band metals like gold, silver and platinum, although a lot of contemporary engagement rings use either platinum or white gold to have the most sophisticated design. When it comes to the gemstones, usually diamonds with round or princess cuts are preferred, but to make things more interesting, one can go for moissanite and cubic zirconia can also be used. The moissanite and cubic zirconia are also perfect alternatives to diamonds because of their quality and affordability. You can also use tanzanite stones if you want to give a deep blue colored stone.
As for the number of stones, usually, the contemporary engagement ring goes for the solitaire diamonds. But if you want to do away with solitaire diamonds, you can go for the three-stone engagement ring. For more information on three-stone engagement rings, you can go to our three-stone engagement ring page so you will have an idea on how to choose a contemporary three-stone engagement ring.
One of the things that make the contemporary engagement ring unique is the ring settings. These create elegant designs. Usually, the contemporary engagement rings make use of pave settings and half bezels to give a modern twist to the ring. There are also options for invisible settings which will make the gemstones look like its floating on the stone. But when you select the type of setting, you have to be careful in choosing the one that goes for the modern feel while letting a lot of light through the stone to make the stone sparkle.
What makes the contemporary engagement rings great is that you can pair them with any kind of outfit, and because it is simple, it can be work on simple and even on grandiose outfits. These kinds of engagement rings can be worn on office attire, simple day outfits, and even on formal events and you will not have a problem matching it with the dress and the other accessories.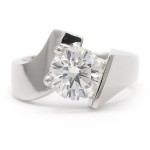 When you go and look for the perfect contemporary engagement ring always take not of the quality of the diamond that you are buying. Make sure that you are buying and engagement ring that has diamond stones that have passed the GIA standard in order for you to make sure that you are making the right decision. You can choose from fancy colored stones, or gemstones other than gemstones, just make sure that you are also choosing the one that has a steady setting as well. For you to make sure that you are getting a contemporary engagement ring that has a great quality, make sure that you buy from a reputable jewelry store!
Contemporary engagement rings are perfect if you are proposing to the modern woman! Go and look for you contemporary engagement ring today!