Proposing to the lady that you want to spend forever with is no joke. The preparations go beyond just being emotionally ready, because you have to prepare yourself financially as well because proposing to somebody you want to have a lifetime commitment with implies that you will have to spend for an engagement ring, and wedding preparations. A proposal seems to be incomplete without giving an engagement ring to solidify your promise. Although a lot of proposals go on without giving engagement rings, nothing will make it more special if you put extra effort in buying an engagement ring for your fiancée one. If you are having budget constraints, then one good way of getting a stylish and good quality engagement ring is to go for a cluster engagement ring.
Another way of giving an original-looking engagement ring is to go for cluster engagement rings.  The cluster engagement ring is one of the most popular styles and a lot of men go for cluster engagement ring to give a more unique look for the engagement rings that they want to go for. The cluster engagement ring is also a good way to save on the budget set for buying engagement rings.  The cluster engagement ring is the term used for those rings where the diamonds are set close to each other which follows a pattern.
The cluster engagement rings come in many different designs however, usually the stones are set to give the illusion that the diamonds look like a large stone. Usually, the cut of the diamonds used for cluster rings are round brilliant cuts, because that cut offers more ways for different designs. However, this does not mean that the cluster engagement ring is restricted to using just the round brilliant cut. It can also make use of different cuts, both with bespoke and non-bespoke engagement rings.
The variety of the designs of the cluster rings are usually employed in the setting. With cluster rings, usually, the use of shared prongs is used because these can offer a lot of space to experiment with the designs while keeping the diamonds set close to each other.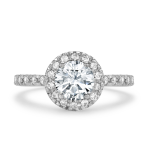 The shared prongs are also used for cluster rings where there is a large central diamond that will be surrounded with smaller diamond like the one to the right here.
The cluster engagement ring serves a lot of advantages compared to other forms of engagement rings. First and foremost, because of its design, the cluster engagement rings can give off a stunning look that can actually compete with the look of the solitaire diamond engagement ring. Plus, the solitaire diamond engagement rings can be very expensive, compared to smaller diamonds that are set close together.
Another advantage of this design is it shows a lot of originality when it comes to the design. Going for a solitaire diamond engagement ring can seem as though you're just going with the obvious choice of the bigger crowd. However, the cluster design can give the impression that you have taken time to carefully choose the special kind of engagement ring that is perfect for your fiancée.
You can also choose to get a bespoke cluster engagement ring. This is one way of getting a personalized look while saving a considerable amount of money. However, you have to choose carefully. You have to consider the 4Cs of the diamonds and match them to the color of the band no matter how small the diamonds are in order for you to make the most value of your investment.
Go for a cluster engagement ring to give a ring that's great for your budget and is also great with style!